The Ayrshire Roads Alliance as part of its ongoing program to improve the condition of the road network will be carrying out essential road resurfacing works on B7083 Fenwick.
To ensure the safety of the travelling public and our roads operatives the road will be closed from 9.00am until 6.00pm each day from Monday 7 March 2022 for up to 3 weeks.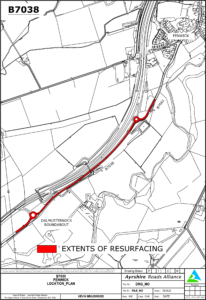 These resurfacing works are weather dependent and may be delayed or suspended at times due to adverse weather conditions.
Road Closure
There will be no access through the site for road users other than access to the property within the extents of the works.
Diversions will be in place to assist all road users during the works.
The diversion route shall be B7038 Glasgow Rd, Western Rd, Kilmaurs Rd, Kilmarnock, A735 to Kilmaurs, Fenwick Rd, Kilmaurs, B751 to Fenwick, northwards on A77, B778 Stewarton Rd, Fenwick and B7061 Main Rd, Fenwick and vice versa.
Vehicles permitted within the road closures during the works
Only emergency service vehicles and vehicles involved directly with the road works will be permitted prompt access.
Other vehicles requiring access will only be permitted following instructions from the onsite Traffic Marshals and access will only be allowed when it is safe and practicable to do so. In the interest of safety, due care and attention is required at all times if you are travelling through the work areas, speeds should be kept to an absolute minimum, as you will be running on a temporary road surface at times and some ironware may be exposed.
Pedestrian Access
Pedestrian access will be maintained when possible to do so with Traffic Marshals on site to assist pedestrians where required.
Traffic Marshals
Traffic Marshals will be on site to advise road users where required. It is advised to contact the number below with any queries The Ayrshire Roads Alliance will endeavour to assist residents and businesses in any way where it is safe and practicable to do so whilst these works are being undertaken.
The Ayrshire Roads Alliance apologises for any inconvenience caused during these essential road works.
Contact
Phone 01563 503 160
Email enquiries@ayrshireroadsalliance.org